excluding tax
Hair cuts & Styles
Women

¥3,740

Men

¥3,300

Middle & High School Students

¥2,860

Under School Age

¥2,640

Bangs cut

¥660~¥1,100

*Shampoo is additional

¥440UP
Considering your head configuration, curliness and frizz, hair volume and quality, we make the cut longer and provide a natural finish by tapering off the tip of the hair and adjusting the hair volume to facilitate the hairdressing.
Essentially the cuts consist of connections of hairs, but sometimes the cut s without such hair connections correct the hair volume, silhouette and film.
Straight hair cured and Natural Straight hair

Straightening Perm

¥9,900~

Premium Straightening Perm

¥14,300~
Straight Hair Cured
Adjust chemical treatments to fit each customer's strong curliness, hair volume and thickness. Take care of however curly the customer's hair is. Use mild chemical treatment on damaged areas of the hair to prevent curling or frizz of the tip of the hair.
Natural Straight Hair
Use mild and natural straightening treatment. Minimizing chemical reaction, use natural straightening treatment to round the tip of the hair.
Available is partially straightening the strong curls around the face.
(we can do both partial straightening and perm at the same time, or straightening the bottom of the hair and perm)
Coloring

Men's Hair Color

¥6,600~

Root touch - up

¥7,040~

Full

¥7,480~

Double

¥9,900~

Highlight

¥7,480~
 To minimize hair damage, we use the hairdressing industry's only hair colors to control hair brightness and color shades.
We mix out of the rich variety of color shades as mixing paints.
In dyeing, we have a full variety of color treatments like fashion colors. How about hair color changes? Not only hiding the gray hair to dye the bottom of the hair.
 The alkali agent left inside the hair causes most damage on the hair. After dyeing, we apply an alkali remover to eliminate the alkali agent from the hair to prevent hair damage and browning.
For persons with the sensitive scalp, we use skin protection oil to alleviate the stimulation on the scalp.
We use treatments agents with nutrients on damaged areas to keep the coloring longer.
In addition to dyeing in one color, we can stripe bright and dark portions to make a natural looking. (this is recommend for persons who want to change the gray hair into bright color as a whole)
Permanent Wave

Perms

¥7,040〜

Partial Perm

¥5,500~

Hard Perm

¥8,800~

Twist Perm(Soft)

¥7,700~

Twist Perm(Hard)

¥8,800~
We prepare four treatments agents for different hair qualities (sometimes mix two).
 We minimize hair damage by treating the damaged spots with protein to facilitate perms, using treatments to control perm odor and make regular hair styles look good.
 The ways of curling make hair impressions so different. We change perm nuances by un-curling the tip of the hair, curling from the middle of the hair up and other means (it is recommended for persons who don't like perms or experienced looking older after perms).
 We suggest the up-move perm be good for persons needing the volume at the bottom of the hair.
Hair Treatments

Special Treatments

¥2,640~¥3,080

Treatment Only

¥4,400~¥4,840

(Home Care)

¥880~¥900
Apply a treatment of coating your hair with high-quality protein.
Scalp massage & Head spa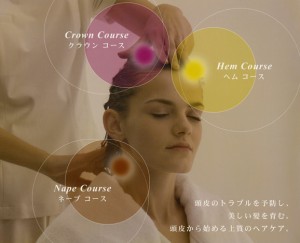 Scalp Massage

¥3,300

Cut & Sclp Massage(Men)

¥4,840

Cut & Sclp Massage(Women)

¥5,280

Head Spa(Styling)

¥4,620

Cut & Head spa(Men)

¥6,380

Cut & Head spa(Women)

¥7,040
Cleansing
Even shampooing every day, the pores on the scalp are clogged up with aging sebum. The clog makes blood circulation insufficient, causing falling or thinning hair. Cleansing is recommended for persons with scalp problems like dandruff, itching, smelling and blotches or worrying about falling or thinning hair.
We clean off the sebum thoroughly while you're relaxing with aroma odor to relieve stress.
We check your scalp (for free) with a microscope and let you see the condition of your scalp. After cleansing, we check your scalp again and you'll find out that your scalp is unbelievably clean.
*Cleansing takes about 10 minutes, massaging the scalp only.
Spa Treatment
As cleansing, aroma odor relieves your stress and softens the stiffness of the scalp, getting a mentally deep relaxing effect.
*Spa treatment takes about xxx minutes with massaging your scalp, shoulder, back and arms.
Hair Set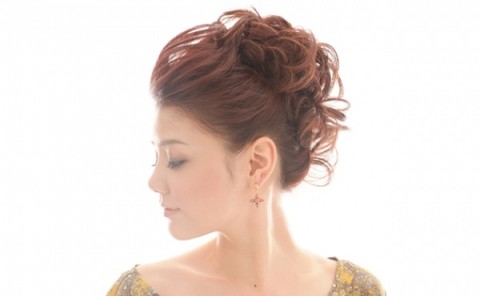 Up Style

¥3,960

Cut Style

¥3,080

※Curl Style

¥1,540
Even if the time of a visitor's choice is early at ceremonial occasions etc., I will correspond as much as possible.
Cabonated spring Water
Cabonated spring water

¥1,100UP